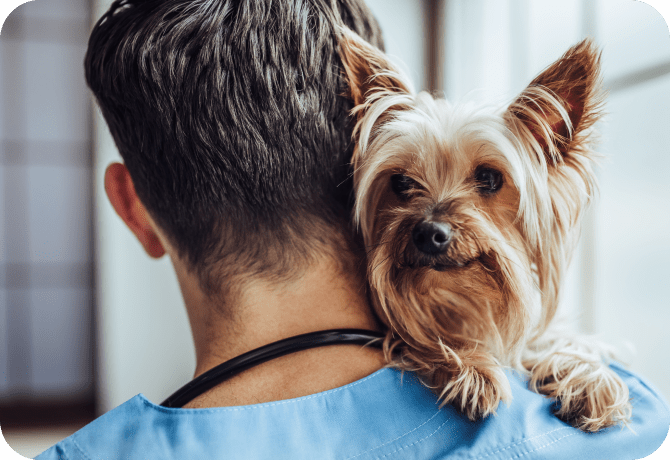 Healthy Reminders for Your Pets and Service Pups
If you're an animal lover, you know that the more time and attention you put into a pet's care, the more they seem to feel loved and show love in return. Just as humans experience an improved quality of life when they're in good health, dogs in good health are generally happier and more energized. That is why we work with NEADS to ensure Cooper and his "classmates" are given the best care throughout their Service Dog journey.
"A dog's health and behavior coincide with one another," said Mark Pelham, DVM, Companion Animal Professional Services, Merck Animal Health. "A dog that is sick will exhibit clues of behavioral problems, while a healthy dog will show positive body language – like tail wagging and direct eye contact. Providing your pet with routine veterinary care helps to safeguard their physical and mental well-being, and even raises their chance at benefitting from training."
Here are just a few "health mottos" we're keeping top of mind as Cooper progresses through his training:
Dog health is similar to human health
As dogs grow older, age-related illnesses such as diabetes, kidney disease and cancer can occur. Similarly to humans, treatment for dogs is much more likely to be effective if their health problem is detected early.[1,2] So if humans get regular preventative health screenings and treatments, our dogs should, too!
There are preventative health guidelines set by the American Animal Hospital Association and the American Veterinary Medical Association that promote early intervention so that dogs may live longer, fuller lives. Talk to your vet about routine bloodwork and tests, as well as preventative parasite treatment to avoid disease or infection.
Routine check-ups are equally as important for pets
Regular wellness exams are key to ensuring Cooper is healthy, comfortable and able to carry out the tasks expected of any Service Dog. For example, if Cooper is matched with an individual who is deaf, he will be that person's ears – making it critical that Cooper's hearing capacity is maintained. If Cooper is matched with someone with physical limitations, he will give that person essential support. Routine check-ups with the veterinarian help ensure that a dog is in good physical health.
A healthy weight is the key to a longer life
Research shows that dogs with a healthy weight live longer, healthier lives because they are much less likely to have health problems.[1] Cooper's Puppy Raiser provides him with a nutritious, balanced diet and plenty of exercise to make sure he maintains a healthy weight. Just as a child needs guidance from their doctor to make sure they are growing well, a puppy requires a healthy diet and regular exercise to help them grow into a healthy, happy dog.
Vaccines are vital
According to the Americans with Disabilities Act, service animals must be protected against all diseases that are common to that type of animal in compliance with public health requirements.[3] Local or state ordinances also require certain vaccinations for regular household pets. Nobivac® offers a wide range of preventative vaccines that protect dogs against serious illnesses such as canine flu, rabies and Lyme disease.
All of these facets of healthcare are incorporated into Cooper's training program to help ensure his success. Not to mention, NEADS has an all-star health team including over 36 volunteer veterinary practices and on-staff veterinary technicians who work together to provide consistent health monitoring for future World Class Service Dogs. Cooper's weight, diet and exercise patterns are monitored frequently as he continues to work with his Puppy Raiser.
Leading up to Cooper's placement in his forever home, he will receive all his puppy vaccinations and an overall wellness exam. His future owner will continue to take him to the vet throughout his life for check-ups where he will receive regular screenings for parasite-related infections and orthopedic x-rays, fecal tests, blood tests, and adult dog vaccine boosters, as needed. Cooper's future owner will also be given BRAVECTO® flea and tick medicine and take classes about Service Dog healthcare, including how to properly monitor Cooper's eating and exercise habits.
Whether you're a Service Dog owner or pet parent, living by these health mottos is an important part of caring for and showing love to an animal. Speaking with a vet and creating your own list of health reminders is another great way to maintain your pet's well-being and happiness.
—
BRAVECTO Cares from Merck Animal Health is committed to the well-being of your pets. We're here to help you keep your pets happy, healthy and active so you can get the most out of your time together.
BRAVECTO Cares also partners with NEADS®, an organization that trains World Class Service Dogs for people living with disabilities. You help support NEADS when you protect with BRAVECTO.
For more about NEADS, visit https://neads.org/about/. To make a donation, click here.
Copyright © 2020 Intervet Inc., d/b/a Merck Animal Health, a subsidiary of Merck & Co. Inc. All rights reserved.
References:
1. VCA Hospitals. Obesity in dogs. https://vcahospitals.com/know-your-pet/obesity-in-dogs. Accessed October 2020.
2. VCA Hospitals. Helping our senior dogs age gracefully. https://vcahospitals.com/know-your-pet/helping-our-senior-dogs-age-gracefully. Accessed November 2020.
3. United States Department of Justice Civil Rights Division. Frequently asked questions about service animals and the ADA. https://www.ada.gov/regs2010/service_animal_qa.pdf. Accessed November 2020.