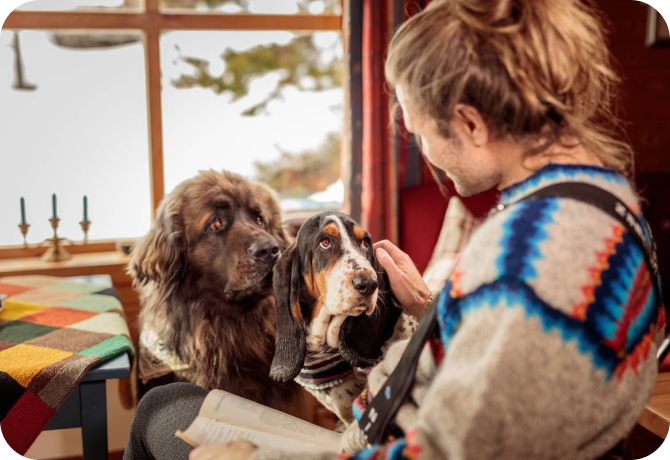 Tips for introducing your pup to the family.
Many people across the country have adopted new puppies recently, and many more will likely do so before the year is over. As the holiday season nears, new pet owners will likely be introducing their furry friends to their human families! In addition to keeping these family gatherings safe by following pandemic guidelines from the CDC,[1] new pet parents should make sure they are prepared to safely and smoothly introduce their puppies to others. Following are some tips for doing just that – facilitating smooth puppy/people introductions this holiday season
1. Familiarize yourself with your dog's breed(s) and background.
Before introducing your dog to the rest of the family, gather information about their breed(s) and background, if available. Learn about their usual temperament, activity level, health, and past socialization. This knowledge about your pet and their personality will help you get a better sense of what to expect when interacting with others. A dog's background and breed characteristics are also important to consider if you will be introducing your pup to another dog or small animal in the family. In this scenario, make sure you also pay close attention to your pet's body language and never force any interactions – they will come naturally once both pets are comfortable.[2]
2. Proceed slowly and patiently, especially with children.
When bringing your new puppy home for the first time or taking them to a new place like another family member's house, provide them with a "home base" like a bathroom or spare bedroom where they can get used to the new smells. Also, if you're introducing the puppy to children, proceed with extra caution, as excited children tend to rush to cuddle or play with a dog – which is heartwarming but can unintentionally make a dog feel fearful. In this situation, encourage the children to be gentle, supervise their interactions, and consider using a pet gate or a leash as additional safety measures.[3]
"If you have young kids in your immediate family, something else I recommend is introducing the puppy to each child individually," said Dr. Mark Pelham, DVM, Companion Animal Professional Services, Merck Animal Health. "It's also helpful to explain to children that puppies need quiet time just like they do and encourage them to bring the puppy to a crate or bedroom every now and then to rest."
3. Get the whole family involved in the puppy's care.
If you are introducing a new puppy to immediate family members who will be in the dog's life on a daily basis moving forward, allow each of them to take on a role in the dog's care, starting as early on as possible. For example, they could get involved in the dog's training, meals, walks, grooming and/or healthcare. Even young children can get involved by practicing basic commands with the pup or getting the leash when it's time for a walk. Not only does this give each family member some responsibility in the pet's care – it also helps the puppy respond more positively to everyone in the household.[3]
4. Use positive reinforcement but set boundaries.
The best way to encourage good behavior in your new puppy is to praise them with things like a chest scratch, game of fetch or – most commonly – a tasty treat. That said, some pet parents have a treat jar in their kitchen and family members are often tempted to give one or two of them when they see those adorable puppy dog eyes. If using treats as a part of your puppy's training, it's important to set boundaries around any treat giving with those who are spending time with your dog. Make sure treats are only given following good behavior and that you use the smallest treat the pup will work for – for example, a small nibble of a jerky stick or piece of kibble.
"Treats are a viable way to achieve desired behavior in puppies, but they should only comprise about 10 percent of a dog's diet, so allowing too many can pose a risk of detrimental health effects such as weight gain," said Dr. Pelham. "Do your best to monitor your puppy's interactions with new people and adjust their regular feedings to account for any treats they are given. Also, consult with your veterinarian to make sure your puppy's diet is both complete and balanced for their life stage."
Speaking of puppies and the holidays, we know that pet owners may also be tempted to share human food with their canine companions – and puppies love to be underfoot in the kitchen exploring all the yummy smells. However, it's a misconception that holiday dinner staples like turkey are "safe" to share with dogs. Dogs should never be given Thanksgiving turkey, as fat trimmings and seasonings like onions and garlic can cause them digestive issues.[4]
Remember, your ultimate goal is to establish trust between yourself and your puppy while also ensuring they feel comfortable with the humans in life that you love. That said, plan ahead to make sure your puppy/family introductions go smoothly, so you can all enjoy each other's company during the holiday season and beyond!
---
BRAVECTO Cares from Merck Animal Health is committed to the well-being of your pets. We're here to help you keep your pets happy, healthy and active so you can get the most out of your time together.
BRAVECTO Cares also partners with NEADS®, an organization that trains World Class Service Dogs for people living with disabilities. You help support NEADS when you protect with BRAVECTO.
For more about NEADS, visit https://neads.org/about/. To make a donation, click here.
Copyright © 2020 Intervet Inc., d/b/a Merck Animal Health, a subsidiary of Merck & Co. Inc. All rights reserved.
References:
Centers for Disease Control and Prevention. Coronavirus (COVID-19). https://www.cdc.gov/coronavirus/2019-ncov/index.html?CDC_AA_refVal=https%3A%2F%2Fwww.cdc.gov%2Fcoronavirus%2Findex.html. Accessed November 2020.
Lucky Dog Animal Rescue. Tips on introducing a new dog to your household pack. Accessed October 2020.
American Kennel Club. Introducing your children to the new puppy. https://www.akc.org/expert-advice/training/introducing-kids-to-a-new-puppy/. August 2016. Accessed October 2020.
American Kennel Club. Can dogs eat turkey? https://www.akc.org/expert-advice/nutrition/can-dogs-eat-turkey/. November 2016. Accessed October 2020.